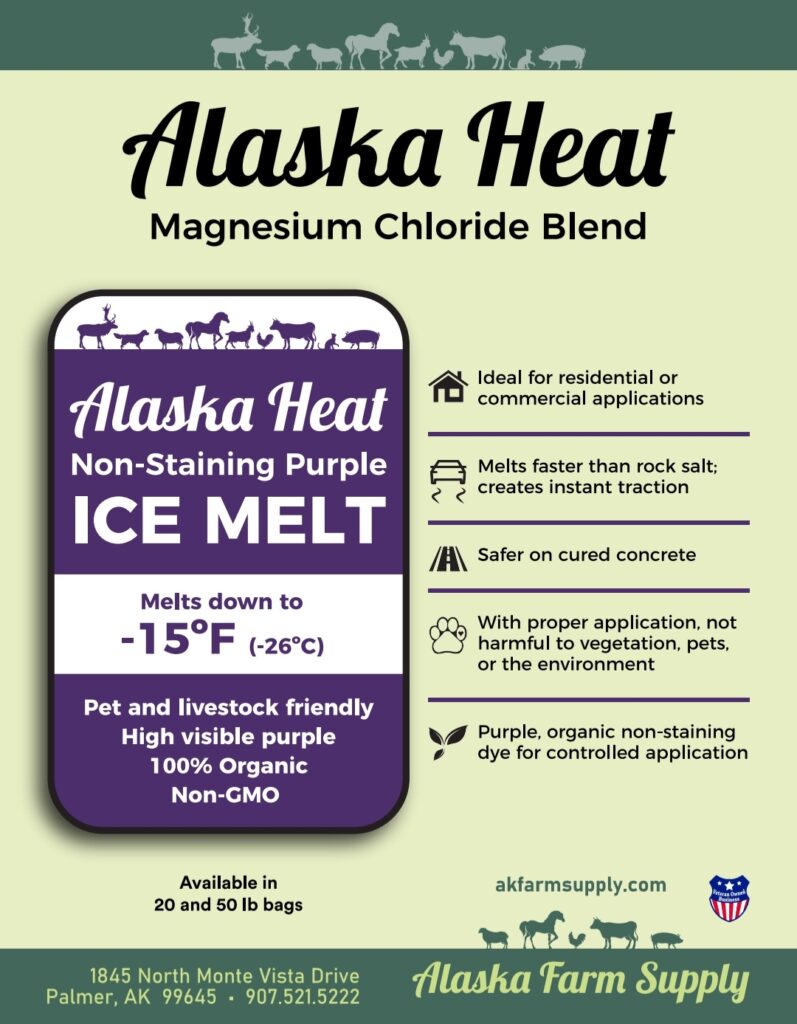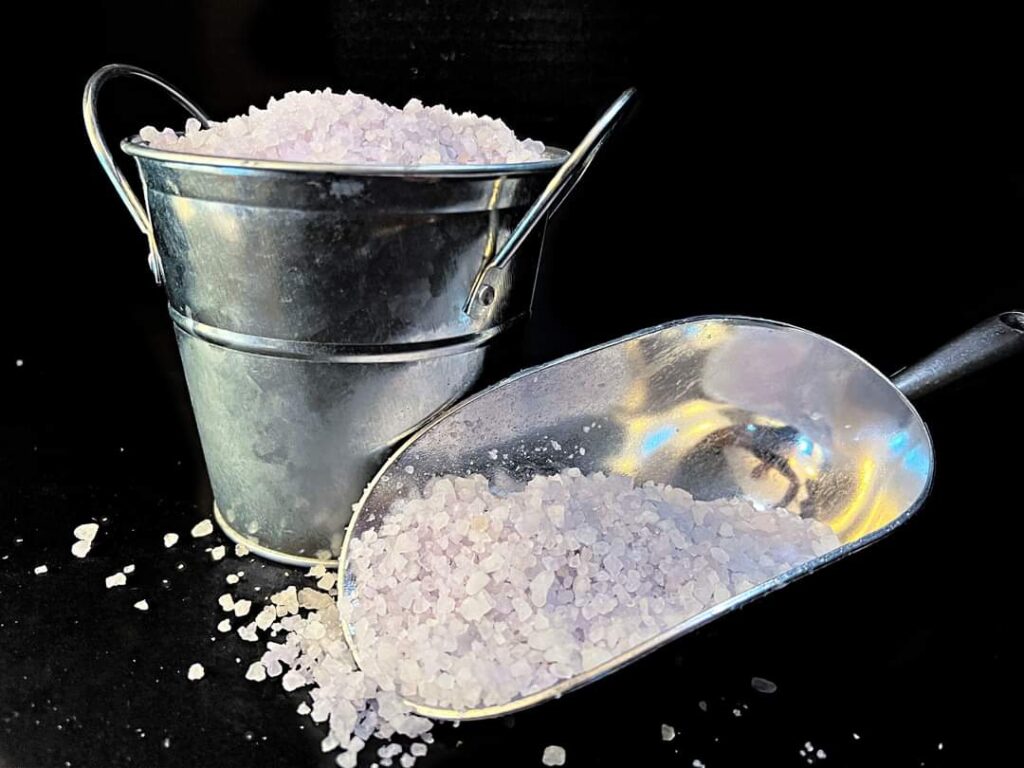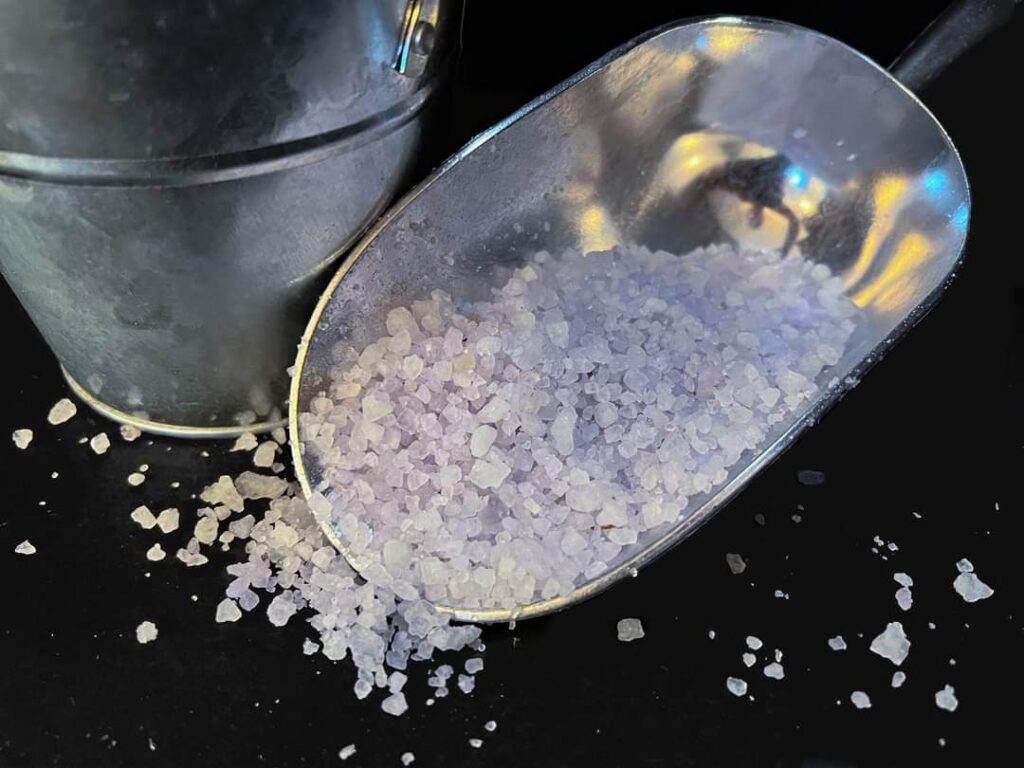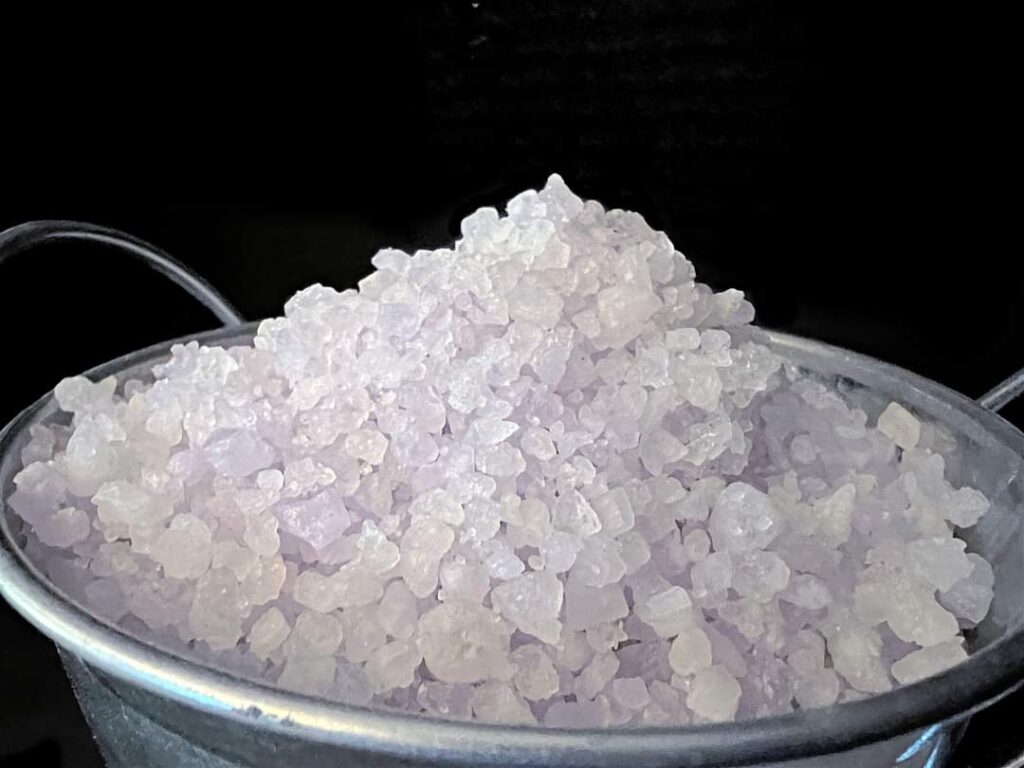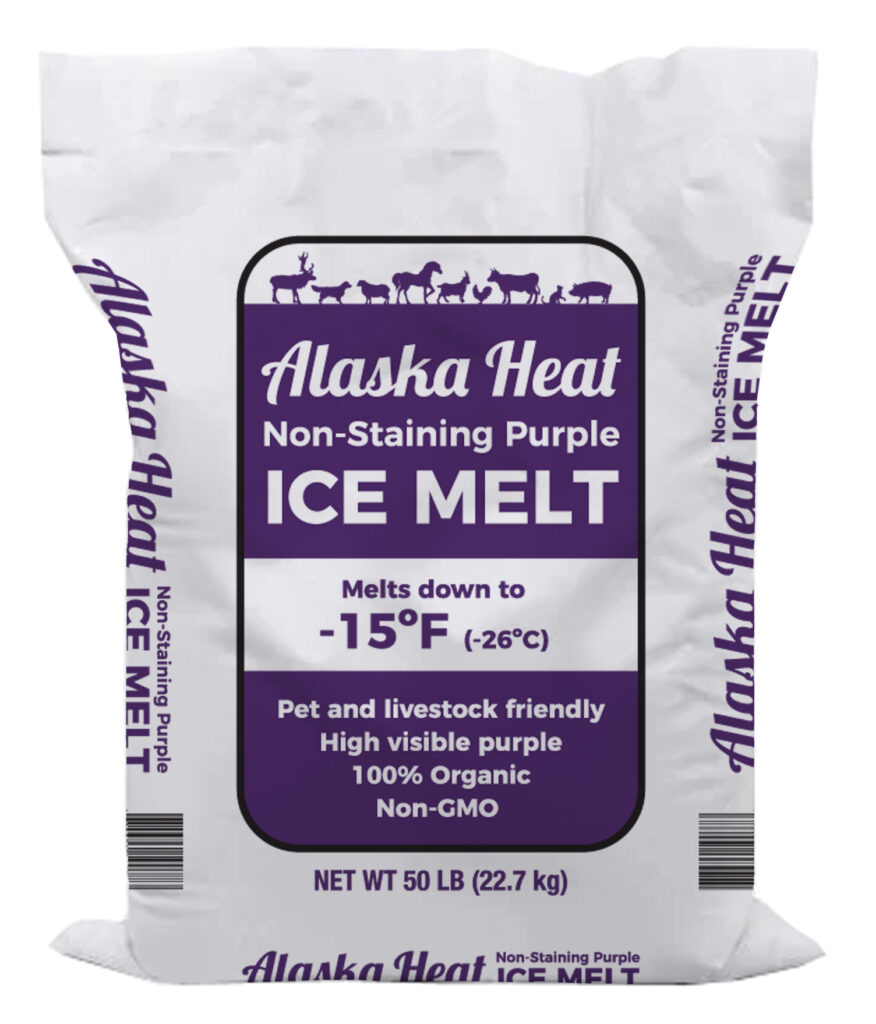 Product Details
12lb jugs, $tbd
20 pound bags, $8.99
50 pound bags, $16.49
Pallets: $14 (49 bags)
Pallets of Commercial Blend: $12 (49 bags)
Alaska Heat is a premium pet and livestock friendly ice melt designed for Alaska residential, farm and commercial use! This high end ice melt has been lab tested and is already proven through various US & Canada Government agencies with stellar results in all categories of performance.
This is not your typical, crushed water softener salt mixed with lime that we generally see in Alaska. We actually designed it for our own family pets at Alaska Farm Supply with our personal dogs, reindeer, horses, sheep, and goats in mind. Alaska tested and Alaska tough!
Finally we have premium quality ice melt that you can see (non staining) at an affordable price that is made for our roads, driveways, paws and hoofs!
Lab tested and more effective than rock salt
*Premium blend melts ice at temperatures at and below -15F
*Non-staining purple dye for controlled application
*Lab tested & more effective than rock salt and ice melts you find in AK.
*Safer to use on concrete & asphalt
*Ideal for residential & commercial use applications
*Not harmful to vegetation
*Pet friendly & environmentally safe
*Contractors choice for walk-behind & tailgate spreaders
*Creates instant traction & works fast!
Alaska Heat Ice Melt is a 92/8 blend which contains 92% sodium acetate, 6% magnesium chloride, 1% calcium chloride, and 1% potassium chloride. This premium blend is lab telted and melts snow and ice at temperatures below -15°F. Alaska Heats kiln dried process supports the natural layer of calcium, magnesium, and potassium which is extreamily advantageous. This product is far more pure than typical mined salt, white salt with added lime and much more effective. It works faster than rock salt, and its safer to use on concrete and asphalt surfaces. Alaska Heat is ideal for roadways, driveways, parking lots, and walkways. It works very well in walk-behind and tailgate spreaders, and the non-staining purple dye helps you control the amount applied and the size of the area covered. Alaska Farm Supply products are lab tested and proven, and 100% American made. Alaska Heat is also organic, pet friendly, and environmentally safe and is the popular choice for your ice melt needs in Alaska..
*Alaska Heat can be purchased at Alaska Farm Supply in Palmer, Alaska Hay & Feed Supply in Anchorage (discounted price) and at your local Walmart.